Raúl Sánchez renovates a 19th century residence in Barcelona
After 8 years of meticulous work, Raul Sanchez Architects finished on renovation of a neglected 19th century residence in Barcelona, Spain. Principal Architect Property Raúl Sánchez, the house is transformed to meet to their needs and preferences that have changed over time. Thus, the impractical four-storey residence was converted into a place where Sanchez can work remotely, as well as relax and enjoy their short breaks and city tours.
all pictures of José Hevia
leaving the original brick walls bare
Before the intervention of Raúl Sánchez Architects, the the property was in ruins; there were damaged floor tiles, weak stairs and some parts were completely destroyed. In addition, it was imperative to adapt the structure to current building regulations. This made it impossible to reuse the interior in its original state and led the design team to the decision to completely demolish the building, keeping only the facades and party walls, as well as the roof slab.
The construction process was slow and complex. Once all the floor slabs were demolished, the building remained like a slender and high prism formed by walls with heterogeneous compositions of all kinds of bricks and stones. Once the architect saw this, the idea of ​​leaving the walls completely exposed came to mind. The four 15 meter high walls have been left intact and exposed, revealing traces of their original construction and use.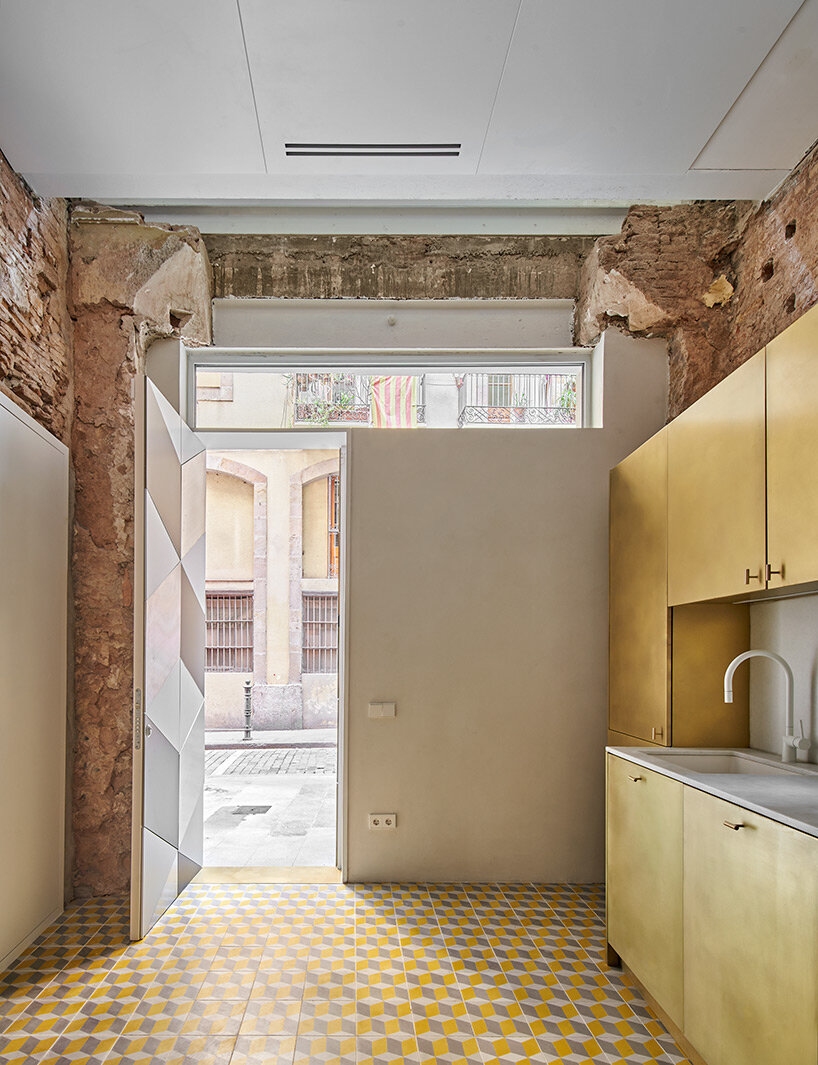 seven exposed stainless steel cylinders
The three new floors are supported by beams that are installed between party walls, which do not touch either side of the structure. Towards the main facade, a sheet of glass separates them from it; and inward, the stairwell serves as a four-story void that unites the entire interior and highlights the building's surprising height.
With the exception of kitchen furniture and bathroom equipment, nothing else occupies the floors, so the occupants can change their use according to their needs. Meanwhile, seven exposed steel cylinders run the full height of the building, six of them housing all the electrical, ventilation, plumbing, extraction, sanitation, air conditioning and telecommunications installations. The seventh is left empty for future needs. The rest of the installations are still visible, never recessed, emphasizing the roughness of the masonry walls to which they are attached.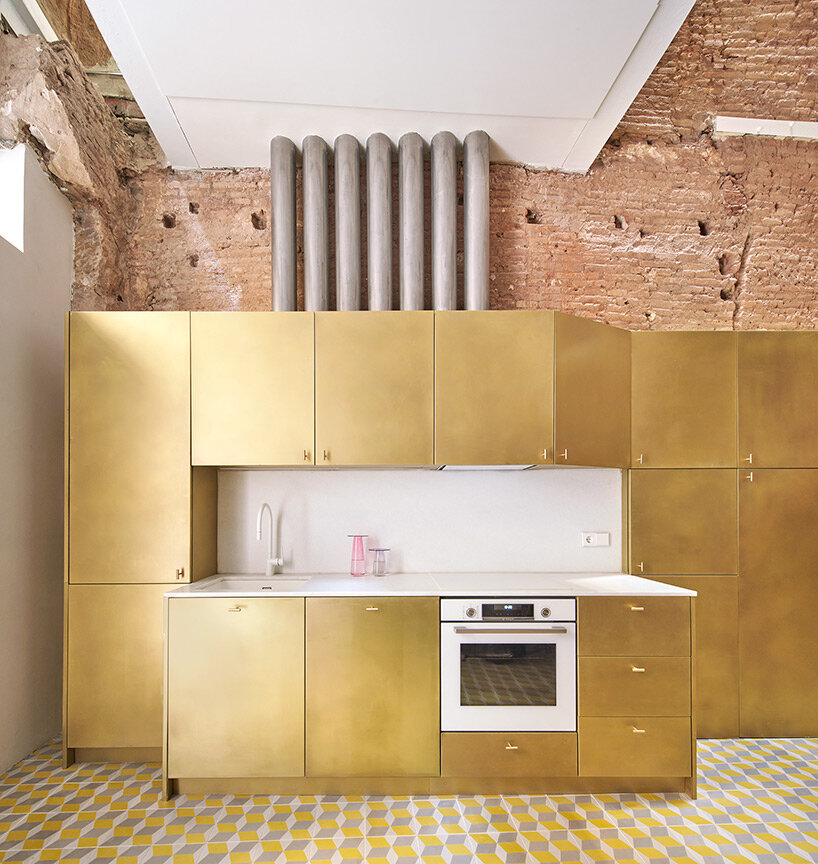 contrasting materiality
In terms of materiality, Raúl Sánchez decided to form clean and refined lines new elements, in contrast to the existing raw structure, Thus, the kitchen takes the form of a frosted brass cabinet, shiny and reflective, with a white marble top. The bathroom fittings are paneled in cream-coloured lacquered wood, with details in black and brass. The "headboards" of the floors are covered in white microcement, while the hydraulic mosaic, microcement and oak floors add warmth and color to the interior.