The government dictates how housing is being built in indigenous communities. Given that incomes in these communities remain low and private ownership of Indigenous lands is rare, this process is unlikely to change in the near future.1 "Indigenous Community Housing" means government-provided housing in Indigenous communities located on Township Leases on Indigenous lands.
Over the past 50 years, governments have taken many approaches to Indigenous community housing, with both successes and failures. Typically, however, one-size-fits-all standard houses are deployed on short-term programs with the argument that they are cost-effective and guarantee quick delivery to address the chronic overcrowding issues faced by many indigenous communities. . While some current initiatives, such as the Northern Territory Government's Room to Breathe scheme, aim to retrofit existing accommodation to be more inclusive and better meet the needs of residents,2 the benefits of designing a level of inclusiveness, flexibility and longevity from the start of construction to ensure better and more sustainable outcomes for residents continue to be overlooked.
A group of practitioners and researchers have undertaken projects and written about alternatives to current Indigenous community housing models that have long been echoed. Although some practitioners have focused on particular housing issues,3 their suggestions all share a goal of listening, collaborating and learning from the residents themselves. Despite repeated calls Architecture Australia in 2004, 2008 and 2016 by researchers Paul Memmott and Timothy O'Rourke for a National Indigenous Community Housing Database that records and shares lessons learned from these experiences, this has yet to be applied on a large scale.4 In 2018, architect Kieran Wong went so far as to say, "We can't afford to 'innovate' in this space, with new designs or construction techniques that meet a short-term need", arguing rather for "long-term national financing". native housing program.5 If the profession has always held the view that inclusive Indigenous community housing solutions are already available, why have they not been embraced? One argument, used by successive governments in national Aboriginal housing programs, is that the collaborative process is too labor and time consuming and leads to more expensive design results.
The story of a family's transition to a new government house in the Yirrkala indigenous community in the Eastern Arnhem region of the Northern Territory is helpful in dispelling this myth and reinforcing calls for change.
Banbapuy's story
Government approaches to housing in Yirrkala have varied widely in their inclusiveness and responsiveness to needs. In 2017, the contract for new homes in Yirrkala was awarded to the local construction collaboration Delta Reef Gumatj (DRG). While DRG trained local Yolŋu labor and used locally produced cement blocks and wooden trusses in the construction, the functional qualities of the houses remain unchanged from standard government-issued designs.
The story of Yirrkala resident Banbapuy Ganambarr illustrates the need for greater modification and diversity of existing housing to meet individual needs. As of 2016, Banbapuy was living with her son and three grandchildren in a teacher's house built from Yirrkala cement brick. When I met Banbapuy, his sister and her family were also camping in his yard for a few months while they waited for their new house to be completed, after the condemnation of the previous one. However, after a car accident, Banbapuy found himself with a disability and could no longer work as a teacher. Without the right to teachers' accommodation, he was asked to leave his house.
Banbapuy liked many things about the teacher's home, which met her needs and was culturally appropriate. She explained that the storage nook near the entrance could be converted into a relatively private fourth temporary sleeping space when additional people moved in. A separate kitchen from the living and dining areas created the privacy needed to observe avoidance relationships and allowed multiple people to use the space without feeling crowded. Separating the toilet and shower allowed people to use the facilities simultaneously, and the low-profile location away from the hallway avoided direct lines of sight. Finally, Banbapuy's bedroom was at the far end of the house, allowing her adult son to come and go without disturbing her at night.
Knowing that she would need to move into a standard government house, I accompanied Banbapuy on a visit to an extended family member's house to review the layout (all government houses in Yirrkala have followed the same blueprint6). It was immediately clear that the standard three-bedroom house would not support cultural safety or provide general amenity for her and her family. The bedrooms were located directly next to the living areas, which presented an acoustic issue. Direct lines of sight were cast in the bathrooms, posing a cultural safety issue. There was no separate entrance so adult children could come and go without disturbing other members of the house. The open-plan living room and kitchen provided no separation from public common areas to maintain avoidance practices. The question was: could the layout of the house be improved to better meet the needs of Banbapuy and his family, without substantially changing its overall footprint?
To answer this question, I looked at the layouts of Professor de Banbapuy's house and the government house to come up with a modified proposal. In the proposed plan, new interior walls create a bedroom wing along one side of the house to provide acoustic and physical separation from common public spaces. (The ratio of new interior walls to be built to existing walls to be removed is roughly equal, meaning negligible change in concrete block quantities.) Wet areas are mirrored to prevent direct lines of sight and provide acoustic separation. A separate kitchen area enhances privacy between living areas. A bedroom gains a separate door, at the location of the original entrance, to provide private access to Banbapuy's son. The net structural change to achieve these modifications is just another doorway. But the recommendations were never followed because the local builder was contractually advised to adhere to the government's design.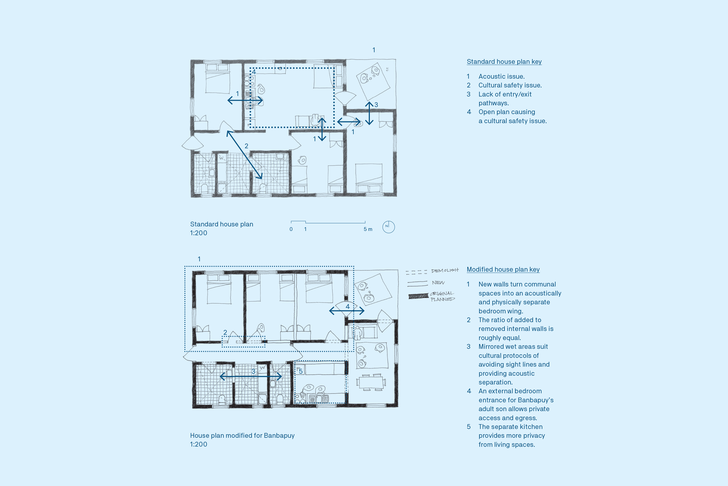 A more inclusive approach
Banbapuy's story illustrates a home of an indigenous community at one time. However, this is a common situation for many residents of Aboriginal communities. And while the design proposal to meet the needs of Banbapuy and his family will not meet the needs of all families in Australia's Indigenous communities, his story highlights a powerful aspect of Indigenous community housing: there is no Not only is there a shortage of houses, but also very few houses meet the needs of the occupants. The modifications proposed for Banbapuy's house indicate a wide range of possible adaptations that could be made to better meet the needs of other families. These modifications are cost-effective and do not substantially alter the existing structural system.
While there is a long-term need for architectural practitioners and researchers to continue to press for governments to consider recommendations for a national Indigenous community housing database, learn from research and projects and include residents in the design process from the start, the following steps can be taken now to prove that inclusive design need not be more expensive:
Listen to residents and ask questions about their needs as soon as they are assigned a new home.
Equip community housing service providers to adapt standard designs to resident needs (provided there is minimal change in overall construction quantities, structural system or footprint).
Allow construction contracts to permit design changes (provided they do not result in cost overruns on construction).
Document and examine the relative success or failure of each approach so that it can contribute to the long-term vision of a national Indigenous community housing database that can be used to inform policy-making based on evidence.
While the net change in structure and cost of implementing this approach may be as simple as an extra door, the net change of providing a family with a home that meets their needs and cultural protocols is extends over the life of the house.