Utrecht railway workshop relaunched with new steel bodywork
Designed by Studioninedots, 'Bovenbouwwerkplaats' shapes the large-scale reconstruction project of the former Dutch Railways factory building in Utrecht. Built in 1905, the workshop that manufactured heavy machinery for the railways has lost its architectural integrity in recent years. The renovation program followed a contemporary design plan while retaining and repairing several original features. All the main industrial qualities of the old warehouse have been preserved and restored, such as its skeleton, its roofs and its exterior facade. An addition of a firm architectural gesture attaches to steel "curtain" body to the structure generating a new silhouette to the space. The open layout that is enclosed within the existing structure accommodates cultural facilities and creative workspaces.
all images by Sebastian van Damme
a flexible urban plan provides sufficient public green space
'Bovenbouwwerkplaats' is part of the development plan for Wisselspoor by studioninedotsin collaboration with DELVA. Committing to the "Cityplot concept", a flexible urban planning strategy, the project proposes an organic interaction with the inhabitants through a set of small-scale and mixed-use programs in the city. The model of the district is a plot of 100 meters by 100 meters, organizing small and medium-sized buildings on the edge of the site. The blocks form a low-traffic exterior system with ample green public space. Following this format, the building accommodates work units, social centers and other shared facilities. The new second layer of construction brings together a five-story mobility hub for 175 shared cars and bikes, leaving the neighborhood open to pedestrians.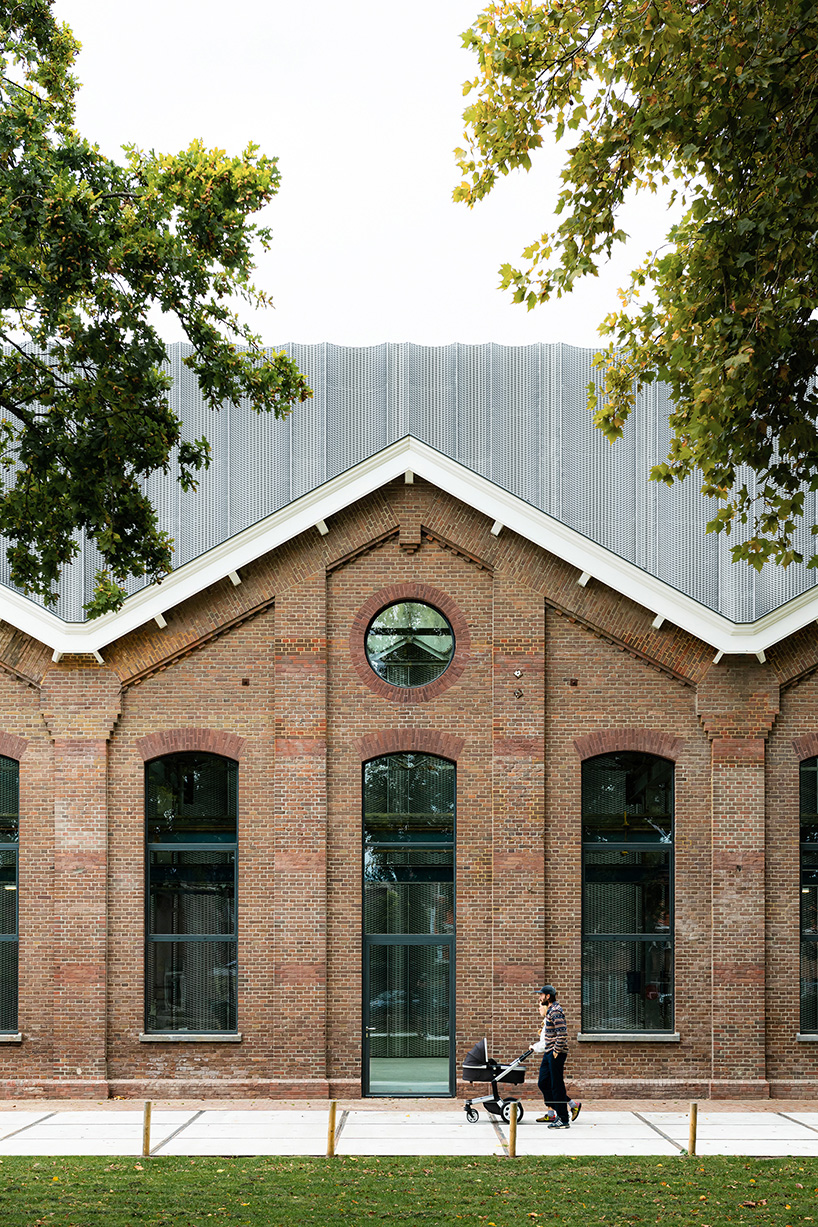 the large-scale reconstruction of the former Dutch railway workshop is part of a flexible urban planning strategy
curved expanded metal infrastructure installed in the old factory
The new orthogonal volume in shiny steel skin rises from the core of the framework in the back wall towards the workshops. The steel "curtain" forms a curved expanded metal shell arranged in an abstract rhythm of varying dimensions between each fold, hence the name of the structure. The massive new element disrupts the perception of scale on the site, making the old factory appear much smaller. The renewed construction preserved various remaining fragments inside the building, such as existing fittings, pipes and even damaged plaster exposing the masonry. Glass frames have been applied to the original vertical window openings connecting the plot to its surroundings. The transparent roof allows the entire plan to enjoy natural light throughout the day. Reflecting abundant light, the metal infrastructure stands as a modern landmark of Wisselspoor.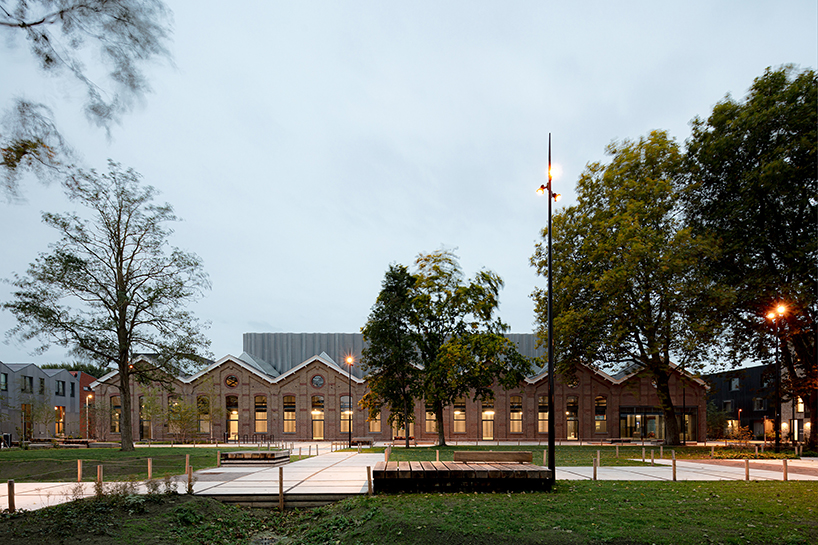 the steel infrastructure of the 'curtain' stands as a modern landmark of wisselspoor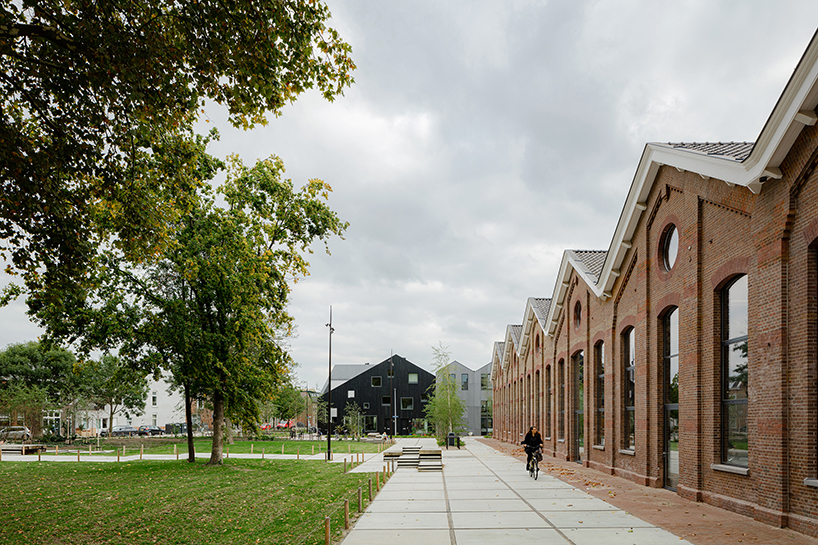 the district of wisselspoor forms a low-traffic outer system with sufficient green public space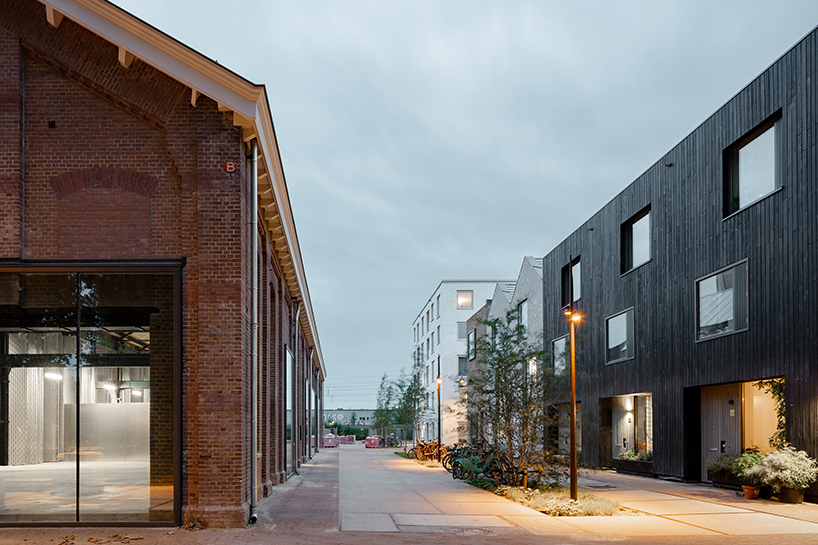 the surroundings of the factory follow the "cityplot" urban plan, leaving the area open to pedestrians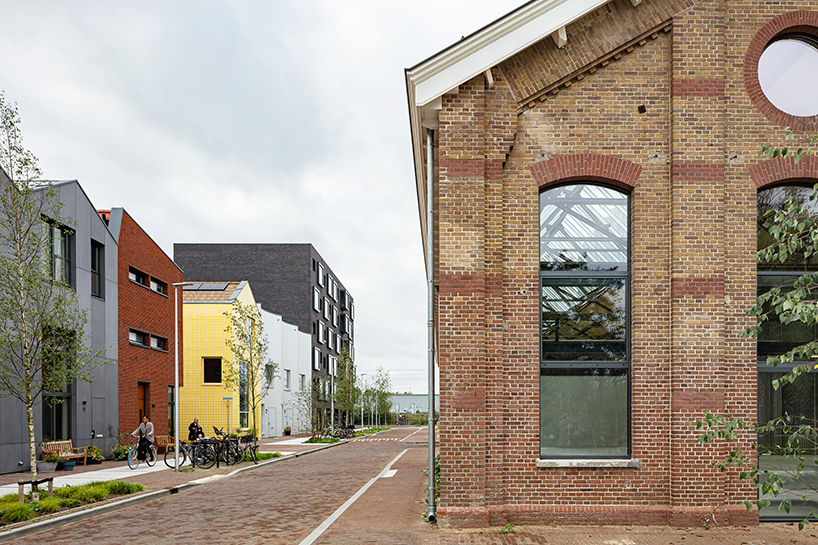 the old warehouse has retained and restored its industrial features, such as the skeleton, the roofs and the exterior facade